FTWZ
The Free Trade and Warehousing Zones
A special category of Special Economic Zone governed by the provisions of the SEZ Act and the Rules.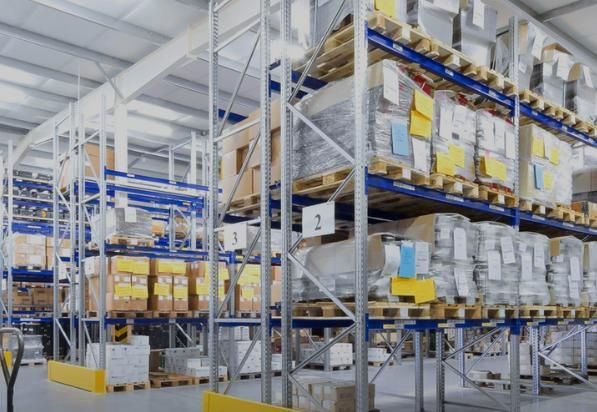 4S is having its own FTWZ facility at Chennai to extend the additional service benefits to its customers to ensure all service levels such as customs brokerage activities, transportation, warehousing facilities offered under one-roof for effective and competitive pricing service levels.
Special category of Special Economic Zones (SEZ)
Can be a 'standalone' FTWZ or a demarcated area within a sector specific or multi product specific SEZ
Outside the customs territory of India with special status and benefits
High on government's radar due to multi-fold increase in international trade
Key link in Indian and Global supply chain logistics and supply chains for imports, exports, re-exports and domestic movement
Dedicated platform for trading and warehousing
Key benefits

of using FTWZ facility
Value proposition
It's important to stay detail oriented with every project we handle.
Provides integrated platform for distribution management and trading

Goods can be held in FTWZ in name of the foreign buyers and sellers

Integrates the benefits of a duty-free zone with high quality infrastructure

FTWZs are treated as a port with proximity to international gateways and inland connectivity

Operates on a freely convertible currency model, i.e. payment for services in FOREX

Provides taxation benefits such as Exemption on Customs / Excise Duty, Interest on Duty and Licensing

Ability to move shipment from international gateways to FTWZ without Customs assessment
Who can be
benefited
Foreign Suppliers who doesn't have any entity in India but wanted to set up a warehouse for Indian and Overseas market
Indian Importers having IEC & GST number
International Traders who wants to hide the sellers and buyers details to each others
Import cargo for Display/Demonstration/Exhibition etc.
Airlines to keep their valuable spare parts for long time without any obligation
International Automobile Industry to keep their spares & parts
Bulk Importers like, Polymers, Chemical, Machinery, Spares, Lining, Fusible Interlining, Hangers, White goods, Electronic & Electric products, Packaged Food Items, Cosmetic items
Consolidators of Indian goods for Export purpose
Flexibile end distribution in India
Duty deferment benefits (freeing up working capital & increasing sales)
Quality control prior to duty payment
Hassle-free re-export regulatory / duty implications
Reduced buffer stocks
Lowered product costs
Foreign exchange transaction capability
Indian products entering the FTWZ benefits the suppliers
GST exemption on all activities conducted inside the FTWZ
Export quotas possible for companies exporting into FTWZ
Increased efficiency through lowered reverse logistics and quality control
Foreign exchange transactions capability
Increasing supply chain efficiencies while enhancing capital cash flow
GST exemption on all activities conducted inside the FTWZ
Exemption from custom and stamp duty
Hassle-free re-export process
Ability to leverage India's cost, skill and geographic positioning advantage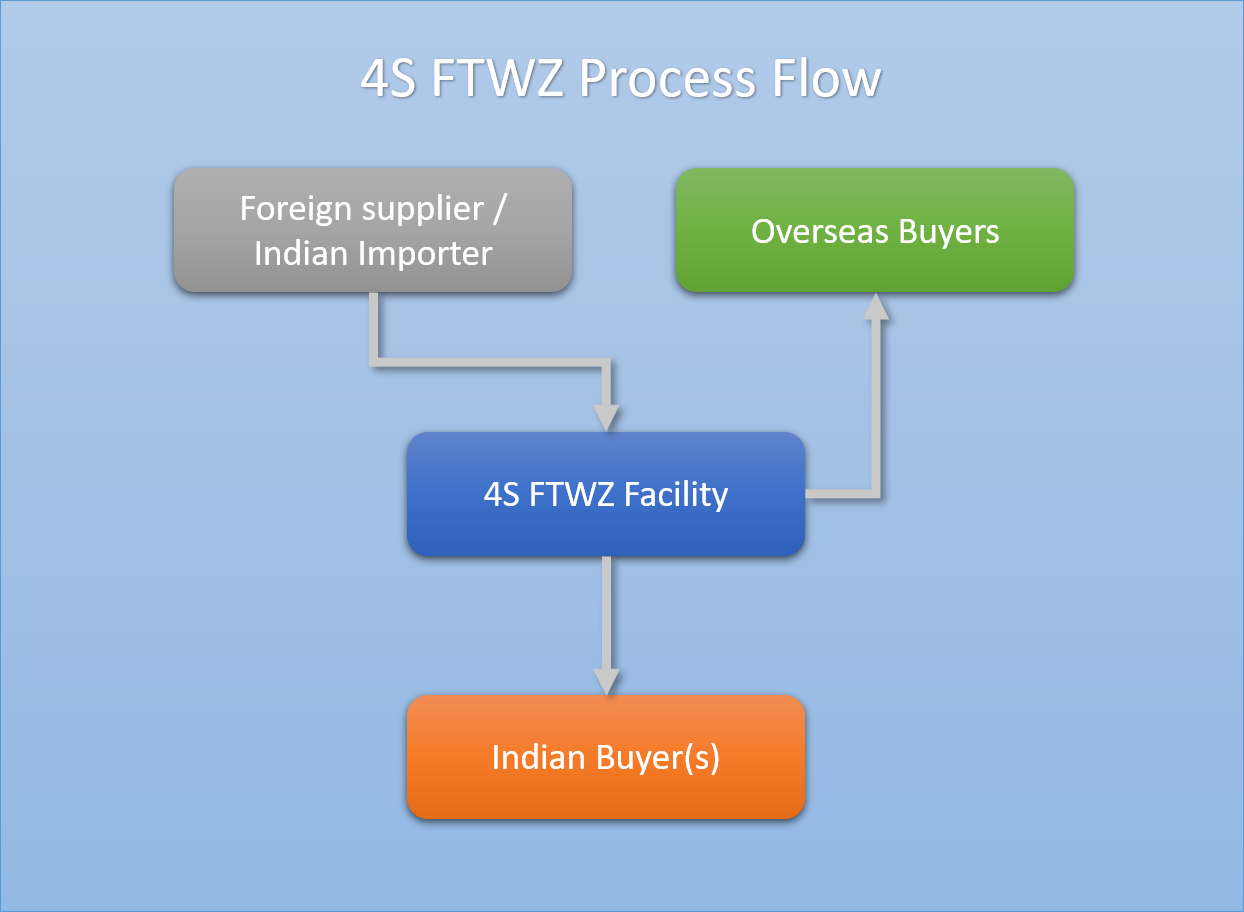 How it
works
Goods ship to 4SLPL – FTWZ in India from suppliers' factory, (one or multiple countries) by air or ocean
Proforma invoice to buyer/s and payment receipt from buyer
Shipment release order to FTWZ to end customers as per their agreed terms
Goods clearance from customs after remitting applicable duty and deliver the cargo to Indian importers or buyers
Goods ownership will remain with the first owner till they file the documents with Indian customs to transfer the ownership rights
Goods export to overseas buyers by air/ocean without paying any duty or GST to Indian customs
No SVB permission for foreign supplier
No mandatory and no such as FSSAI, PQ, BSI, ADC, etc. till you file the bill of entry for domestic clearance
About Us
4S logistics is a fast growing logistics provider in India catering to the needs of key industry sectors including automotive, distribution, electronics, discrete manufacturing, textiles, food and beverages.
Our Services
A speciality service
---
Inland cargo movements
---
Special economic zone for imports and exports
Our Contacts
No.38 (OLD NO.304)
LINGHI CHETTY STREET,
CHENNAI 600 001. INDIA